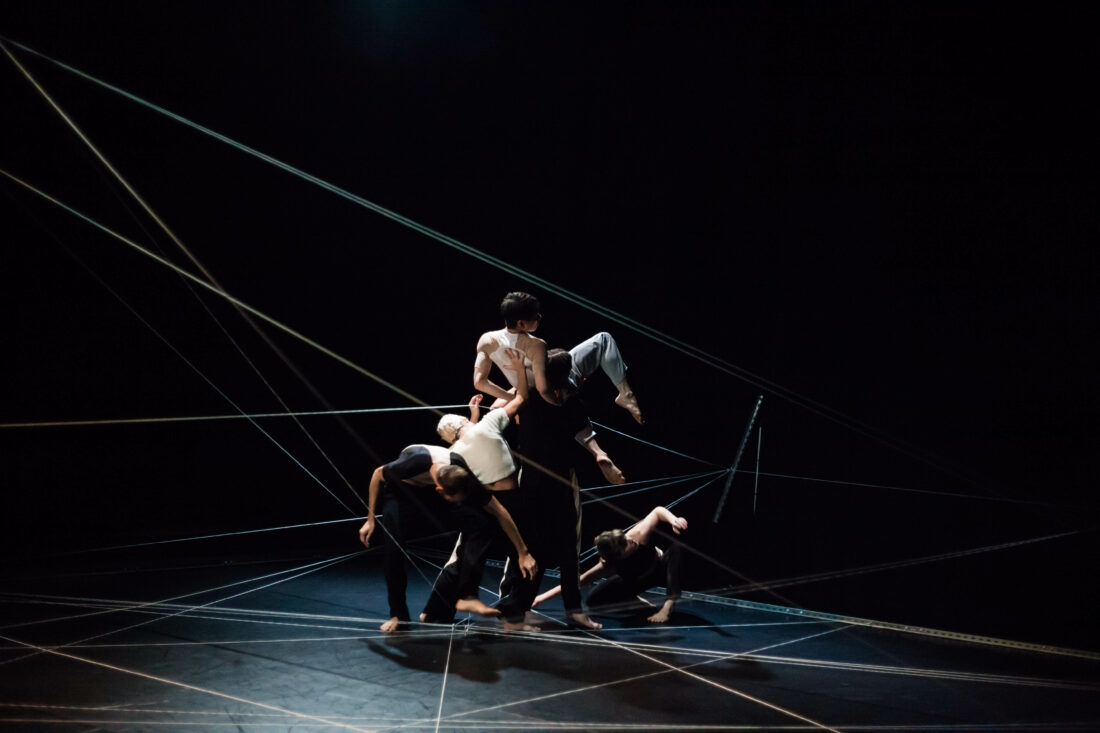 Tanzkompanie / Dance company: animi motus (http://animimotus.de)
Teaser: https://youtu.be/uO1HdY1GyQw
Künstlerische Leitung, Choreografie & Bühne / Artistic Director, Choreography, & Set: Elisabeth Kindler-Abali
Musik / Music: Jaspar Libuda
Tanz / Performance: Gianna DiGirolamo, Felipe Fizkal, György Jellinek, Po-Nien Wang, Hannah Westbrook
Kostüm / Costume: Julia von Leliwa
Licht & Technische Leitung / Lighting & Technical Director: Maxx Kurzunski
Presse / Press: Sara Fremberg
Aufführungsorte / Venues: Uferstudios Berlin (DE), CounterPulse San Francisco (USA)
Dauer / Length: 60 min
Gefördert von / Funded by:
Fonds Darstellende Künste
Checkpoint Charlie Stiftung
Goethe Institut San Francisco
Berliner Senat
–
Ein Mensch lebt und agiert in der Regel in einer Vielzahl von Netzwerken. Ihre Rolle ist es, diesem Menschen ein Umfeld zu geben, das ihn schützt und hält, sie regen aber auch dazu an, sich in jedwede nur vorstellbare Richtung zu entwickeln und zu wachsen. In unserem modernen, digitalen und global orientierten Leben vergrößern sich unsere Netzwerke. Unabhängig von Ort und Zeit können gemeinsame Identitäten gestärkt und Beziehungen über Landesgrenzen hinaus gepflegt werden.
Doch der Anstieg transnationaler Verbindungen birgt auch Risiken. Weltweite Finanzkrisen konnten durch die globalisierte Vernetzung erst entstehen. Gesundheitsnotstände wie die Corona-Pandemie wurden dadurch begünstigt. Während und nach Krisen stellt sich zudem die Frage, wie wir unsere Netzwerke gerade in der Notlage besser nutzen können, um zusammen zu halten.
n-e-t-w-o-r-k-i-n-g stellt Menschen und ihre Netzwerke auf multi-disziplinäre Weise dar. In einer Mischung aus zeitgenössischem Tanz, Live-Installation und musikalischer Komposition wird gezeigt, wie Netzwerke entstehen, wozu sie beitragen, und wie sie in Krisenzeiten helfen, diese zu überwinden.
–
A human being, as a rule, lives and acts in various networks. They provide a safe environment that supports that human, and at the same time they motivate and inspire us to grow and evolve in any imaginable direction. In our modern, digital, and globally oriented lives, our networks increase. Regardless of space and time, cultural identities can be supported and trans-national relations can be fostered.
However, the increase of trans-national relations also hold risks. Worldwide financial crises could only arise through global networks. Health crises like the corona pandemic have therefore been fed. During and after crises, another question arises: How can we use our networks in such emergency times for a better solidary?
n-e-t-w-o-r-k-i-n-g represents people and their networks through a multi-disciplinary performance. In a mixture of contemporary dance, live-installation, and composition, performers show how to create and use networks and how they can help to overcome times of crises.